Custom Printing
Business Cards
Creative Business Cards
Creativity
Invitation
Marketing
Online Printing
Printing Tips
Professional Printing
Typography
How Many Business Cards Does an Entrepreneur Need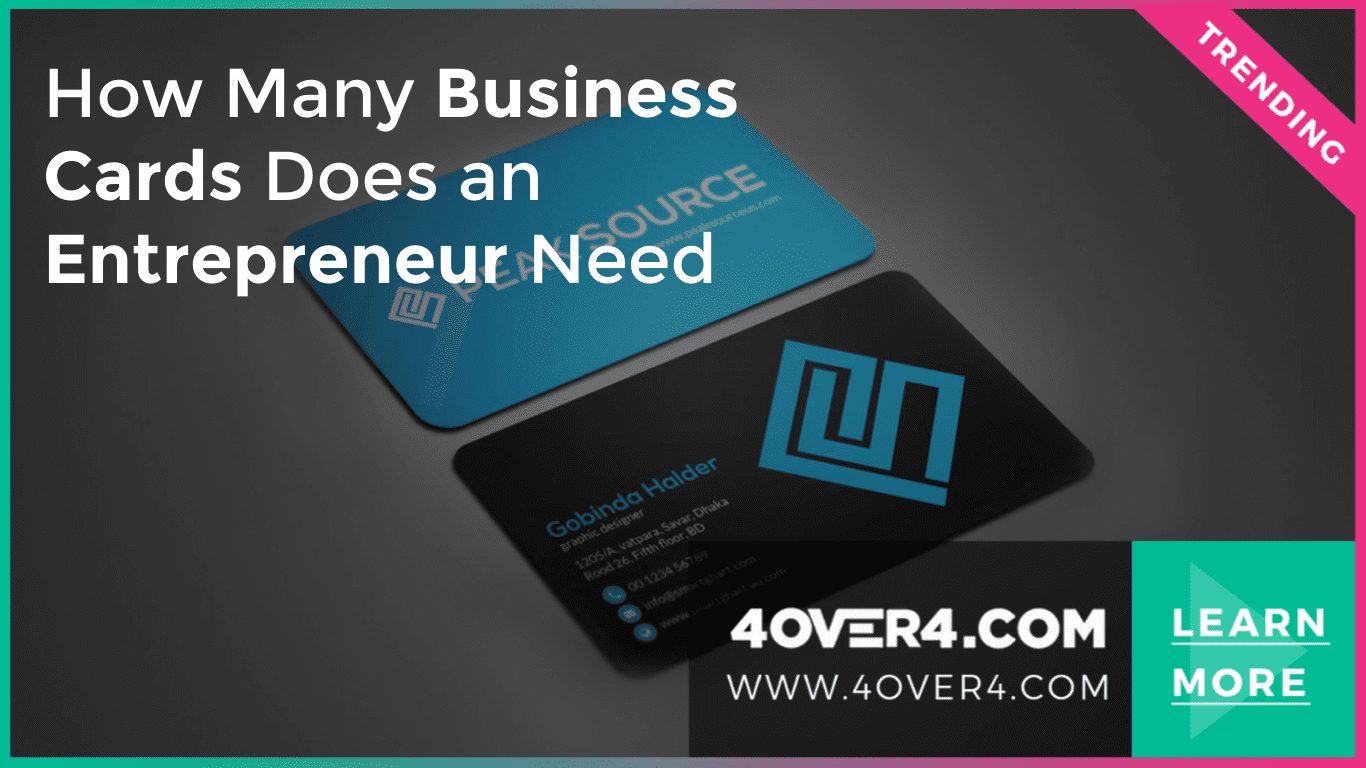 What is a business card? It is primarily a smaller version of your resume. The business cards reveal your identity. From who you are to what you do and how to connect with you, it tells everything to your prospects and customers. The uniqueness of the cards like paper stock quality, colors, etc. also helps people to gauge your achievements and success level so far in your business. Once you have made up your mind on the business cards design and the message you wish to add to it, the next decision that you need to make is the number of cards you need. Do you know how many business cards do an Entrepreneur needs?
Deciding on the number of cards might seem to be an easy task on your to-do list, but it isn't very easy to make the right choices. 4OVER4 helps you to ease your worries and decide colors, thickness, number of die cuts needed, and more. All you need to do is determine the best inexpensive business cards as per your budget and the number of cards you need. How to decide the required number of cards by any businessman? Let's learn more about it.
How Many Business Cards Should an Entrepreneur Order?
When an entrepreneur order business cards cheap, or expensive, you need to keep two things in mind.
When you order less, you may end up paying more for each card or run out of your budget.
Ordering too many can cross your budget level, and you might need to compromise on the design as soon as the existing cards exhaust.
Several things need your consideration before deciding the right number of cards for your needs and situations. It would help to consider how often you would need to change the card, cost per card, and the number of cards you anticipate to give out and strike a balance.
Things to Consider While Deciding the Number of Cards
Frequency of re-branding your business cards
Consider the kind of business you are in. For instance, if you are in the artistic field, re-branding can be once or twice a year, whereas, for an accountant or attorney, one creative business card can go on for years.
Soon to be outdated info included
Have you printed any info on the card that might need a change soon? For instance, are you looking forward to adding new services in the coming year, or will you be changing your address or phone number? Is your website under maintenance or having a major redesign? You must consider all before printing the bulk business cards.
Plans to attain new accreditation or qualification
If you are planning to add accreditation and qualification to your existing resume, it is always better to order the number of cards that would last until attaining your certification.
Mostly working online
If you work online or freelance professional networking online, 100 to 500 cards are enough for you to last throughout the year. In such cases, it is essential to work smartly with your contact information. Adding the email or web address, leaving out the landline number, and physical address can be a smart move. You can visit 4OVER4 to place small orders that serve your purpose. From custom designed soft-touch and die-cut to mini cards and over-sized cards, our customer service team can guide you with all. 4OVER4 team is highly knowledgeable and creative to offer you the best printing service at all times. Our high-quality, full-color premium recycled paper stocks and finishes make us one of the most trustworthy business card printing services online.
How Many Business Cards Do You Think You May Need?
Do you have a rough idea as to how many cards you would need to promote your business? How frequently you head to various events and conferences? If the number is more, business cards are likely to get over within a short period. Apart from networking, if your job involves lots of interaction with several existing and potential clients outdoor, you will definitely need more business cards. Every year the minimum number of cards that an Entrepreneur might require is around 500 to 1000 according to the nature of your business and the number of people you come across. If you are a social person and network more, then you might need even more cards as 1000 are likely to disappear instantly when you have to attend a series of more significant events.
Order More Business Cards and Lessen Your Expense 
The per-card charges reduce when you order in bulk. It is one thing that all entrepreneurs must remember while ordering premium quality business cards. If you are sure of your decision not to make any changes to your business goals and objectives in the coming year, always order more business cards and reduce the per card rate. It can save you big on your pocket.
Whereas, if you are in a transitional phase or tired of your same old boring business cards and thinking of printing a new one, opt for printing business cards in a small amount. You can place minimum order as low as 50 premium cards or gloss laminated cards with 4OVER4. Our standard cards minimum order is 100, and spot UV cards minimum order is 500.
So, check your needs as per your business and place the order for the right number of best inexpensive business cards. We have several business cards examples and design templates on our website.  If you are a start-up with new ideas and innovations, placing the order for more cards are recommended to share it with as many people for building your client list. You may also order cheap business card free sample to check the final output, quality, and finish of the card.
Are you still wondering about the number of cards you should order? It is not something that you can just wear as one size fits all. You must be able to think about the activities involved in your business and if any changes are to come in the coming years. Once you take a note of all the upcoming changes and also the existing ones, you will understand the number of cards an Entrepreneur will need over a year.